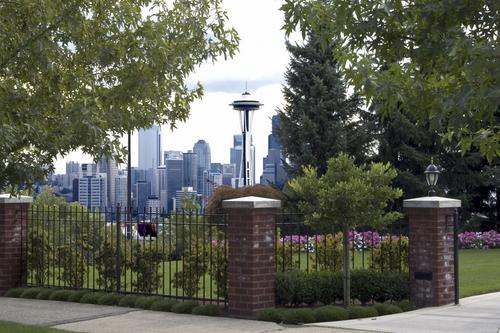 Photographer's Notes:
Lucky for me I live in one of the world's most photogenic cities. We've had poor weather these last few days. Today it improved with some sun after days of rain. There is a park just north of the city overlooking the skyline. I ventured out and took about 90 pictures (various angles, exposures, focal lengths). And as I was packing up to leave, I noticed a jewel of a house just next to where I was taking pictures. Almost as an afterthought, I shot a few through the garden toward the Space Needle. The rain had greened up the garden nicely. And I liked the contrast with the sky and the skyline. Wish I'd shot these last week, however, since they would have qualified well for the Framing challenge.

Keywords: Seattle, cityscape, travel, architecture, emerald, city

This photograph originally appeared in the Travel Guides Challenge.
Garden Tour of Seattle -- The Emerald City

by Dr. De Que

Available in 3 sizes ($0.99 - $7.99)



More Prints by Artist
Cityscape Prints by Artist

Travel Prints by Artist

Add This Print to Your Wishlist