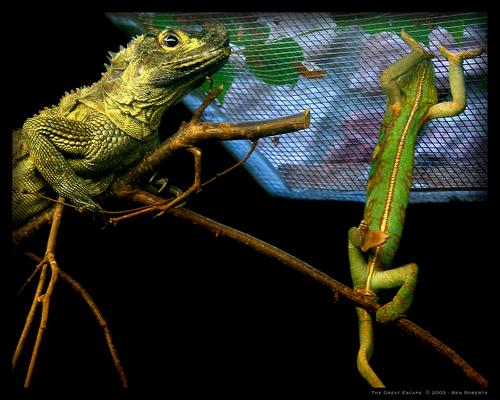 This little lizard was rattling the bars on the ceiling as if he was trying to escape, and the big guy next to him just sat there, blinking, as if to say.. "You are Mad." This was in Reptile World at Bristol Zoo, England.

"The best way to escape from a problem is to solve it."

-Alan Saporta

If you would like a size using a different aspect ratio of this print, eg 4x6, 8x12, etc, please do not hesitate to contact me through email: broberts@blueyonder.co.uk

This photograph originally appeared in the Fauna Challenge.
The Great Escape

by Ben Roberts

Available in 2 sizes ($5.00 - $12.00)



More Prints by Artist
Animals Prints by Artist

Humorous Prints by Artist

Add This Print to Your Wishlist